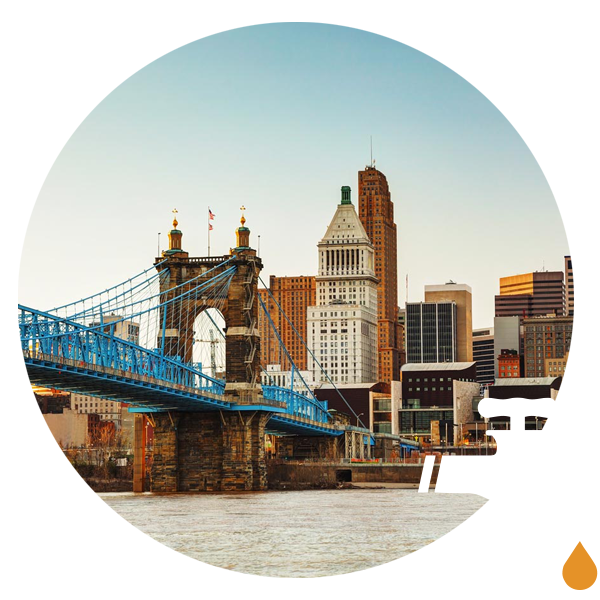 Service Area Locations
Cincinnati, OH Plumbing & Drain Services
Looking for an expert plumbing contractor in Cincinnati, OH? Hire Five Star Cincinnati Plumbing for commercial and residential plumbing services, including general repair and maintenance, excavation for sewer and pipe lines, drain services, well pump repair, clogged drains, sump pump problems, shower and sink repair, toilet repair, and installation, and emergency plumbing services around the clock. We're proud to service the Greater Cincinnati Area with our five-star rated plumbing services!
If you're a resident, home or business owner in Cincinnati, Ohio in need of professional plumbing services, give Five Star Cincinnati Plumbing a call. No matter how big or small the job, we always stand behind all of our work as a local-owned, family-operated plumbing business serving Cincinnati, OH.
Residential & Commercial Plumbing Repair, Maintenance & Installation in Cincinnati, OH
With a thriving arts scene, unique culture, several professional sports teams and a world-famous chili chain, Cincinnati is one of the best places to visit in the midwest. This Southwestern Ohio city is colorful, vibrant, welcoming and one-of-a-kind. Cincinnati has a beautiful culture and skyline; it is considered one of the best places in the world to live. Currently, Cincinnati has a population of more than 300,000 people. The Greater Cincy Metro Area is the third-largest city in Ohio. We at Five Star Cincinnati Plumbing are excited to serve this amazing community and its residents and business owners.
Originally, Cincinnati was settled in 1788. The city is located at the northern side of the junction of the Licking and Ohio rivers, which is the state line for Kentucky. For people who enjoy sports, especially professional sports, Cincinnati has much to offer for sports entertainment; it is the home of the Cincinnati Reds, the Bengals, FC Cincinnati, the Cyclones, the Stingers, the Steam, the Sizzle, the Mighty Ducks and more. The city also has several great colleges. It is close to Kings Island Amusement Park, which is 30-minutes north. Other popular destinations for visitors include the Cincinnati Zoo and the city's art museums. With an endless array of activities, Cincinnati is full of fun and adventure for people of all ages and all walks of life.
A fun fact about Cincinnati is that the city was named after a 5th-century B.C. Roman soldier and historic leader. Lucius Quinctius Cincinnatus was considered a hero for leading Rome's army to victory over invaders. After saving the nation, Cincinnatus stepped down as ruler and relinquished his rites as dictator to return to his farm where he lived out the remainder of his days in peace and obscurity, a true hero and true leader and servant of the people.
If you need grease trap cleaning, sump pump installation, tankless water heater installation, garbage disposal repair, toilet repair, water softener installation, sewer cleanout or any type of emergency plumbing service in Cincinnati, you need Five Star Cincinnati Plumbing. We are the area's leading gas plumber and licensed plumber and we offer our residential and commercial customers a customer satisfaction guarantee. As a member of the Five Star Home Services Family, we can also help with electrical work and HVAC.

Choose Five Star for Residential & Commercial Plumbing & Drain Services in Southern Ohio
Whether you have a residential or commercial plumbing need or you need a plumber for new construction, call Five Star Cincinnati Plumbing today so you can enjoy top-quality plumbing products and plumbing services that are second to none. We offer prompt plumbing services at competitive and fair prices, and we promise not to drain your bank account.
Five Star Cincinnati Plumbing proudly serves Blue Ash, Cheviot, Cincinnati, Fairfield, Finneytown, Forest Park, Hamilton, Indian Hill, Lebanon, Lockland, Loveland, Mason, Middletown, Milford, Monroe, Montgomery, Newtown, Norwood, Reading, Sharonville, South Lebanon, Springboro, Springdale, St. Bernard and surrounding areas. If you have any sort of plumbing-related questions or have a plumbing repair or installation need that can't wait, call Five Star today!